Welcome to ClevelandWomen.Com
for Women of all Ages
in Cleveland, Northeast Ohio & Beyond.
---
---
Star Wars brownies and sweets at Night Market in Cleveland
Cassandra from Fear's Confections in Lakewood Ohio brought out some gourmet brownies and sweets to the August Night Market in Old Chinatown in Cleveland Ohio. Popular items include their Star Wars inspired sweets. See more at ClevelandCooks.com








---
Baltic Way commemorated at One World Day
The 74th annual One World Day was amazing. Lots of photos and videos coming soon but a highlight was before the Parade of Flags.

Honorary Consul of Lithuania Ingrida Bublys was joined by Honorary Consul of Estonia Mary Nippert and TV news anchor Chris Tanaka at the 74th annual One World Day in the Cultural Gardens of Cleveland Ohio. Consul Bublys told of the Baltic Way that took place 30 years earlier in Estonia, Latvia and Lithuania.

The marchers in the Parade of Flags at One World Day, led by delegations from the Baltic countries, commemorated this historic event by forming their own human chain joining hands along Martin Luther King Blvd. in Cleveland.

The Cleveland commemoration of the Baltic Way was produced by Dan Hanson with Angela Woodson, Al Griffin and members of their team and the Estonian, Latvian and Lithuanian communities to show solidarity with the ideals of the historic Baltic Way and showcase the diversity of Cleveland.

Enjoy this video of the Cleveland Chain.




---
Steeped Coffee - Cleveland Cooks™ Review
We have come a long way with coffee. I remember Mom and Dad having a big percolator on the stove for making coffee. Then Joe DiMaggio and his Mr. Coffee became the new way to enjoy the drink. Automatic drip coffee makers are still around but with the surge of Starbucks and similar companies, many people started getting their coffee outside the house. For the last several years we have seen the popularity of machines like the Keurig where you put in a pod and make a single cup of coffee.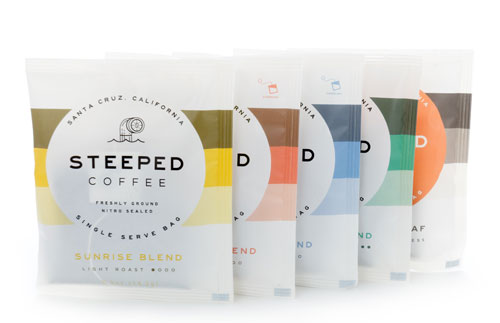 Now a company called Steeped Coffee is taking us back to a simpler time with a simple idea.

Read our Cleveland Cooks review of Steeped Coffee


---
Traffic Report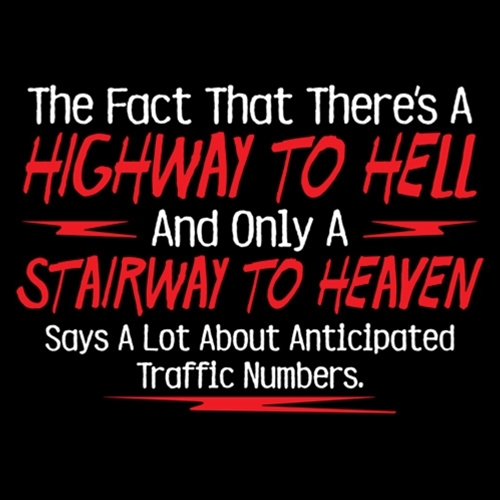 ---
51st Annual Puerto Rican Parade
The 51st annual Cleveland Puerto Rican Parade was held Sunday August 4th. The Parade was put on by the Hispanic Police Officers' Association (HPOA) which has been proudly serving it's members and the greater Cleveland community since it was founded in 1986.

The 2019 Parade Honorees were:
Olga Rosado, Grand Marshal
Ruben Estremera, Padrino
Lisa Roman, Madrina
Nayseth González, Miss Teen Puerto Rico 2019
See photos and videos of the Puerto Rican Parade
---
American Nationalities Movement Captive Nations Awards Ceremony
The American Nationalities Movement of Ohio held its 57th annual Captive Nations dinner program on Thursday July 18, 2019 and honored Rick DeChant Jr., John Sabol and Gia Hoa Ryan with the Freedom Award.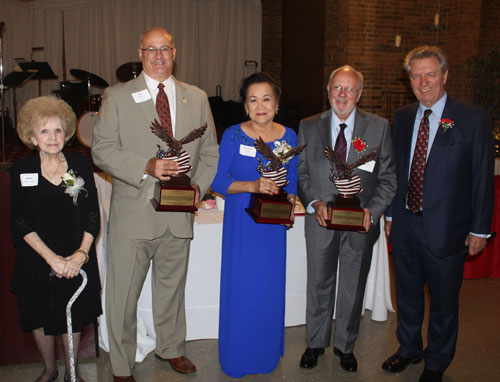 Irene Morrow, Rick DeChant, Gia Hoa Ryan, John Sabol and Ralph Perk Jr.
Photos and videos of the ANM event
---
Association of Indian Physicians of Northern Ohio 2019 Medical Yatra
A 'Yatra' is a holy pilgrimage. For years, Dr Jaya Shah and Ramesh Shah have led an AIPNO Medical Yatra to tend to the needs of the poorest in different areas of India. Many of the people that the team of doctors see and treat have never had any contact with a medical professional.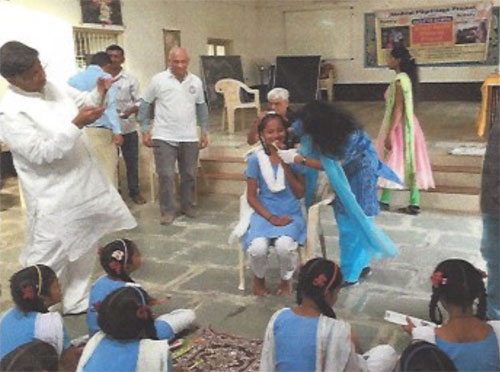 AIPNO Educating Teachers and Students in Dental and CPR
See facts and photos from the 2019 Medical Yatra
---
We are still waiting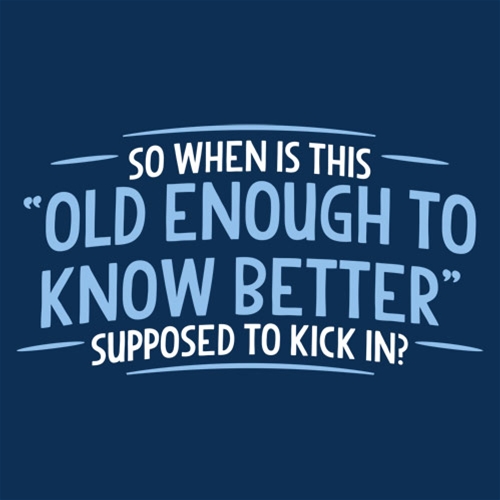 ---
Special Food Lineup for the 2019 Major League Baseball All-Star Game in Cleveland
Delaware North, the official food, beverage and retail partner of the Cleveland Indians at Progressive Field, announced a lineup of new items for the MLB All- Star Game. The menu showcases local favorites and ingredients such as Cleveland Kraut, a variety of pierogi and rich sausages.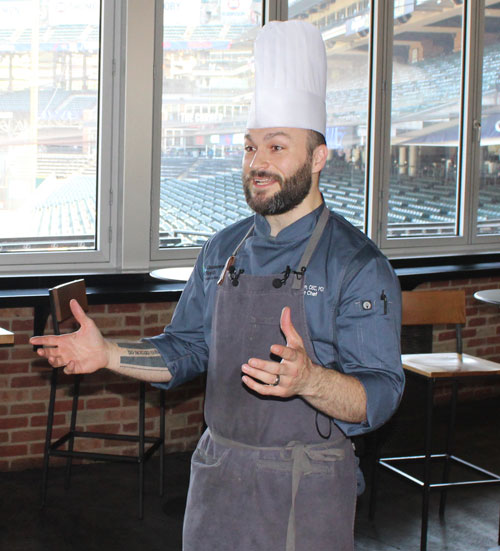 Executive Chef Joshua Ingraham



Take a tour of the 15 new items (photos and videos) and learn about the new trends in ballpark foods and how Cleveland will be celebrated for its foodie scene.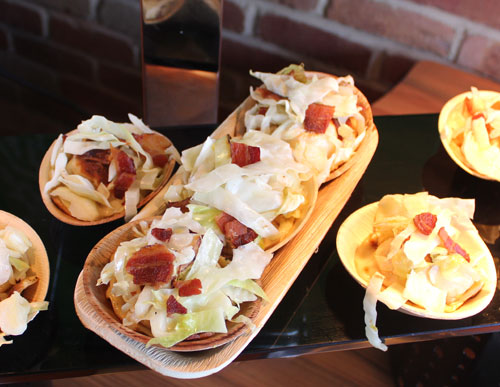 Fully Loaded Pierogi
Photos and videos of the All-Star Game Foods
---
Euclid Beach Park Pier
On Wednesday May 22, 2019 the Cleveland Metroparks had a ribbon cutting ceremony to mark the grand opening of the Euclid Beach Pier. The new pier is 315-feet long and 16 to 24 feet wide, extending 150 feet over Lake Erie. The newest park amenity was designed to improve accessibility and offers guests clear views of the downtown skyline and historic Euclid Beach shoreline. The pier features three custom archways that pay homage to the historic park and former Euclid Beach Amusement Park.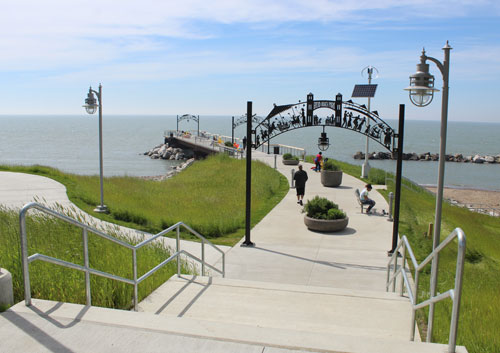 New Euclid Beach Pier
See more photos and a video tour of the new Euclid Beach Pier
---
Walk under the bridge at Shooters by the Leif Erikson bust
One of the things we like most about the Flats in Cleveland is that they were, and most still are, working areas. The diverse bridges work, ships carry ore and other materials and it is all mixed in with the entertainment establishments. For years there has been a bust of Viking Explorer Leif Erikson near the entrance to Shooters on the west bank of Cleveland's Flats.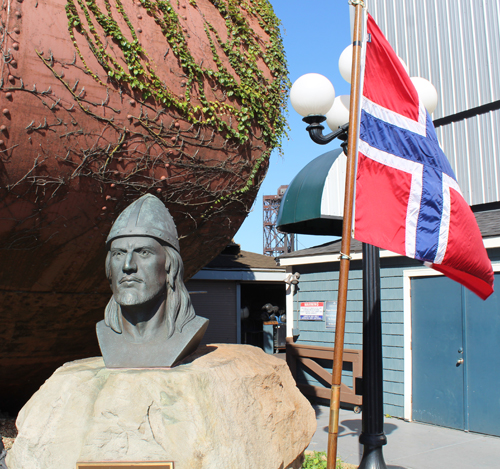 Leif Erikson bust and flag of Norway



On a recent visit, Dan Hanson noticed that now you can walk under the piece of the bridge from the parking lot to the Cuyahoga River and see some of the ironwork of the bridge.

Photos and a short video tour of under the bridge


---
The Truth can Hurt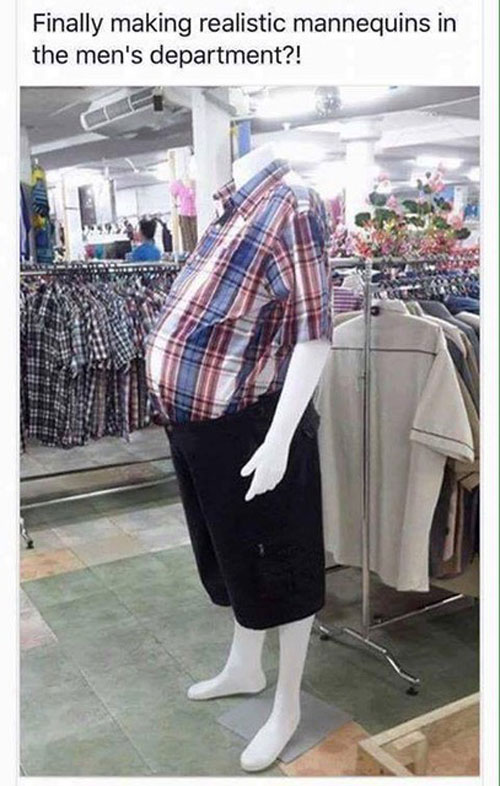 ---
Girl Entrepreneurs Finish Successful 2019 Girl Scout Cookie Program
With pantries and freezers stocked full of Thin Mints and Tagalongs, the 2019 Girl Scout Cookie Program has come to a close for Girl Scouts of North East Ohio (GSNEO). More than 18,000 Girl Scouts across the region sold 2,587,596 boxes of cookies this year. Out of the total sold, 54,576 boxes were donated to members of the military through Operation: Sweet Appreciation, bringing them a taste of home.

Samatha Jarvis of Salem, OH, is the 2019 top seller with 3,211 boxes sold. With her earnings, Samantha is working on a project to earn the Girl Scout Gold Award, the highest achievement in Girl Scouts. Samantha is one of 54 GSNEO Girl Scouts who earned a pearl for their sale of 1,000 packages of cookies or more during the 2019 Girl Scout Cookie Program. These young entrepreneurs were honored at the Pearl Ceremony, held May 5, 2019, at the Akron Zoo. They each received a single pearl. The pearl signifies that a girl has made a significant contribution to keeping the Girl Scout movement strong. When Juliette Gordon Low started Girl Scouts in 1912, she used her own money to pay for everything, she even sold a pearl necklace she dearly loved.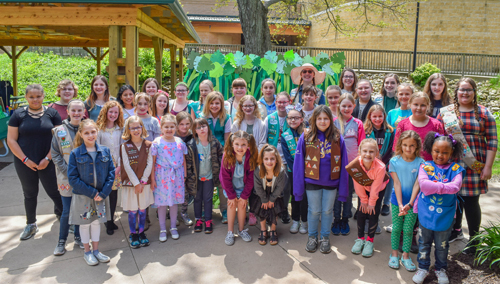 Thanks to technology, Girl Scouts sold cookies from coast-to-coast using the Digital Cookie® platform. Girls sent emails to their customers with a link to their personalized website, where family and friends could order cookies to be shipped directly to their doorstep. Girls also used traditional sale methods such as door-to-door selling and booth sales at more than 3,000 local venues.

For each box of Girl Scout Cookies sold, 100% of the net revenue stays local and supports council-sponsored leadership programs and girls' chosen activities. Thanks to the generous investment made by cookie customers, Girl Scouts have the opportunity to achieve their goals and become girls of courage, confidence, and character.

For more information about joining, volunteering, or supporting Girl Scouts of North East Ohio, visit gsneo.org
---
Clinical Health Psychologist Lori Stevic Rust at EWAW event
Elite Women Around The World® is a global network of individuals, leaders, organizations and businesses coming together with a shared mission of enhancing the economic position of women globally. EWAW celebrated a Glass-Ceiling Shattering Night for Women on Women's International Day March 8, 2019.

One of the presenters was Lori Stevic-Rust, PhD, a board certified clinical health psychologist and national healthcare expert on senior services.




---
Cleveland International Hall of Fame class in the Cultural Gardens
The 6 new members of the Cleveland International Hall of Fame did a quick interview with Channel 19 news anchor Chris Tanaka. Each met in the Cultural Garden of their heritage so Marilyn Madigan was in the Irish Garden, Sree Sreenath in the Indian and so on. Watch the video by clicking on the white arrow below.



See more from the Cleveland International Hall of Fame


---
5 Minutes to Fabulous
Elite Women Around The World® is a global network of individuals, leaders, organizations and businesses coming together with a shared mission of enhancing the economic position of women globally.

EWAW celebrated a Glass-Ceiling Shattering Night for Women on Women's International Day March 8, 2019. One of the presenters was Image Consultant Pat Gibson from The Artistry of You.

Dr. Mona Gupta introduced Pat who's speech was entitled 5 Minutes to Fabulous.




---
Elite Women Around The World
Glass-Ceiling Shattering Night for Women
March 8, 2019

Elite Women Around The World® is a global network of individuals, leaders, organizations and businesses coming together with a shared mission of enhancing the economic position of women globally. EWAW celebrated a Glass-Ceiling Shattering Night for Women on Women's International Day March 8, 2019. A diverse group of professional women, and some men, gathered at Landerhaven for presentations, networking and dinner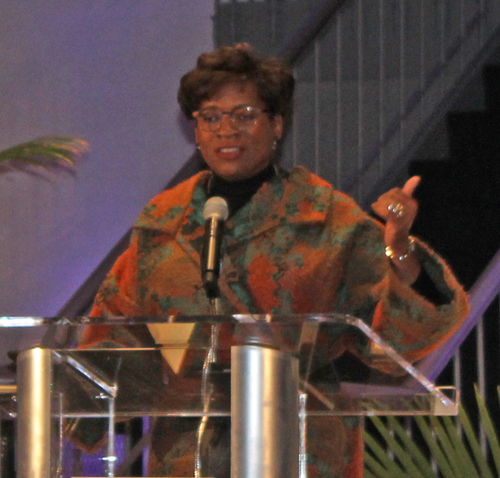 Ohio Supreme Court Justice Melody J. Stewart keynote
See photos and videos of the Glass-Ceiling Shattering Night
---
Captain Jennifer Harris Exhibit
The International Women's Air & Space Museum (IWASM) has a temporary exhibit on Captain Jennifer Harris, a Marine Corps Casualty Evacuation pilot. She served three tours of duty between 2003 and 2007, the first in Kuwait and the next two in Iraq. Captain Harris saved countless lives by flying in and out of combat areas for the emergency evacuation of injured soldiers and Iraqi citizens.

After graduating from the United States Naval Academy in 2000, Captain Harris learned to fly the CH-46 Sea Knight Helicopter. She was then assigned to Marine Helicopter Squadron HMM-364, Purple Foxes, and immediately deployed for Operation Iraqi Freedom (OIF). A legendary squadron, the Purple Foxes became famous in Vietnam for repeatedly going into harm's way, under any conditions, in order to evacuate the wounded. That dedication continued in OIF. Harris was the first deployed female pilot in the Purple Foxes Squadron, and she eventually became promoted to the rank of Captain.

Captain Harris was one of the best CH-46 pilots in the Marine Corps. Unfortunately, on February 7, 2007, the very last flight of her third deployment and after completing a successful casualty evacuation mission, Captain Harris was killed in action when her helicopter was shot down by insurgents.

Currently, on display in the museum are her military uniform jacket, a model of the CH-46 Sea Knight Helicopter she flew, her Aviator Flight Log Book, her military dog tags, her Naval Academy class ring, and personal photographs.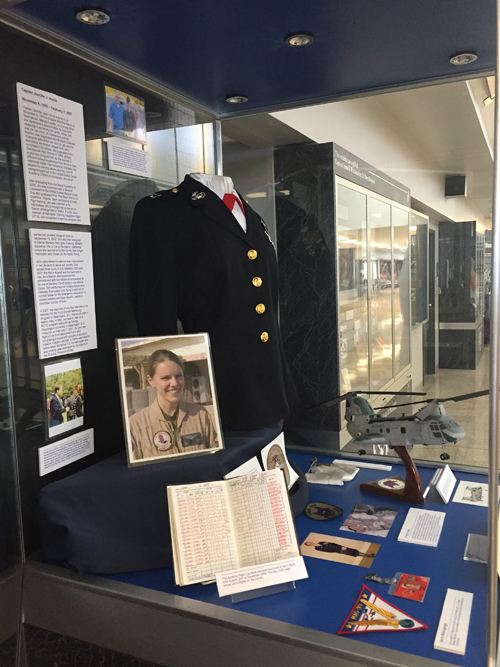 The museum offers free admission. Exhibit hours are 8 a.m. to 8 p.m., seven days a week. Office, gift shop and research center hours are 10 a.m. to 4 p.m., Monday through Friday.

The International Women's Air & Space Museum is located in the terminal of Burke Lakefront Airport, only seconds from the Rock and Roll Hall of Fame and Museum and the Great Lakes Science Center. The mission of IWASM is to preserve the history of women in aviation and space and to document their continuing contributions today and in the future. In 1986 the museum opened in Centerville, Ohio. IWASM was welcomed to the City of Cleveland, Ohio in 1998, where you will find their home at Burke Lakefront Airport. Exhibits are in the lobby at Burke, as well as the west concourse, and are accessible seven days a week. For additional information please visit www.iwasm.org.


---
Beetology beet + veggie drink Cleveland Cooks™ Review
Let me start with a disclaimer. I do NOT like beets. I know they are healthy but I never could acquire a taste for them. They are bad enough cold but I tried a hot Borscht soup once on vacation and had to run to the restroom. Given that, I decided to give the Beetology beet + veggie drink a try to get the health benefits of beets. I chilled it in the refrigerator and shook it well as advised. Then the moment of truth. I liked it! A lot!

The ingredients on the bottle I had listed Beet Juice, Green Apple Juice, Carrot Juice, Kale and Celery. Outside of the green apple juice none of those ingredients sounded appealing to me but the combination was tasty. It didn't taste like any of the individual ingredients. I guess I could taste a hint of the beets but it wasn't the taste I had rejected over a lifetime. There seemed to be a slight peppery taste though that was not an ingredient. It just tasted good.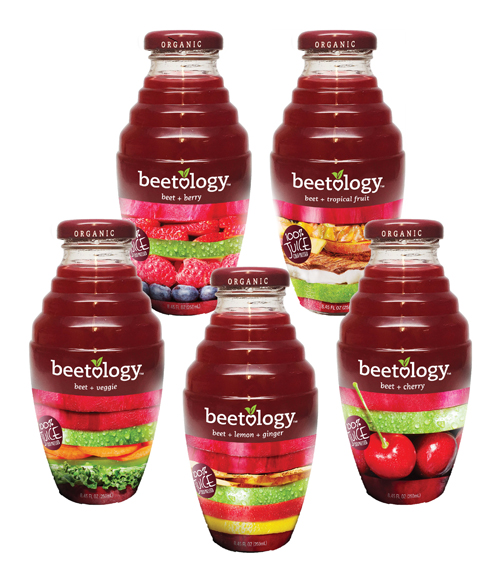 Read our Cleveland Cooks review of Beetology
---
Getting a prescription filled (humor)
A nice, calm and respectable lady went into the pharmacy, walked up to the pharmacist, looked straight into his eyes, and said, "I'd like to buy some cyanide".

The pharmacist asked, "Why in the world do you need cyanide? The lady replied, "I need it to poison my husband."

The pharmacist's eyes got big and he explained, "Lord have mercy! I can't give you cyanide to kill your husband, that's against the law. I'll lose my license! They'll throw both of us in jail! All kinds of bad things will happen. Absolutely not! You CANNOT have any cyanide. Just get a divorce!"

The lady reached into her purse and pulled out a picture of her husband in bed with the pharmacist's wife.

The pharmacist looked at the picture and said, "You didn't tell me you had a prescription."
---
Modern Wedding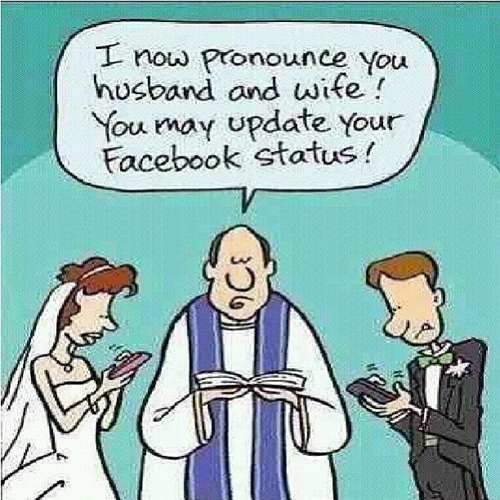 ---
Wisdom of the Chalkboard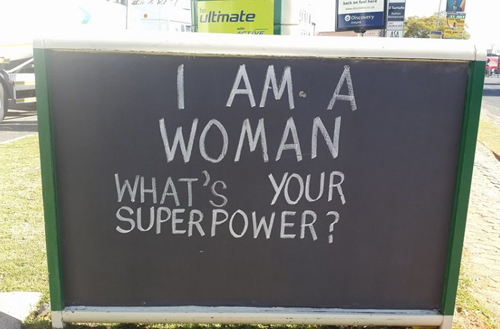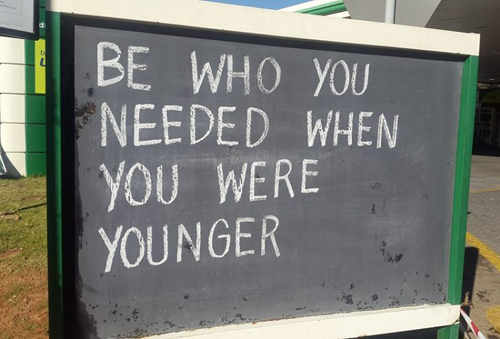 ---
Are you a Foodie?
If so, check out a preview of the new ClevelandCooks.com

ClevelandCooks is geared toward:

Chefs
Home cooks and wannabe chefs
Foodies
People who like to dine out and try new things
Food industry entrepreneurs
And more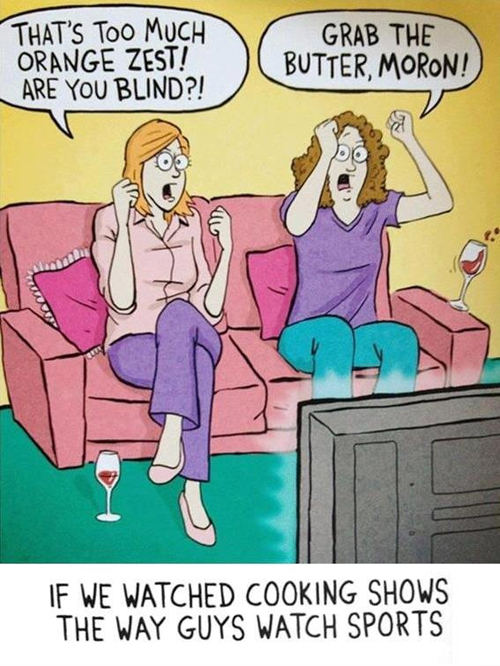 ---
ClevelandWomen.Com Book of the Week
The Girl on the Train


The #1 New York Times Bestseller, USA Today Book of the Year, now a major motion picture starring Emily Blunt. The debut psychological thriller that will forever change the way you look at other people's lives.

Intersecting, overlapping, not-quite-what-they-seem lives. Jealousies and betrayals and wounded hearts. A haunting unease that clutches and won't let go. All this and more helps propel Paula Hawkins's addictive debut into a new stratum of the psychological thriller genre. At times, I couldn't help but think: Hitchcockian. From the opening line, the reader knows what they're in for: "She's buried beneath a silver birch tree, down towards the old train tracks…" But Hawkins teases out the mystery with a veteran's finesse. The "girl on the train" is Rachel, who commutes into London and back each day, rolling past the backyard of a happy-looking couple she names Jess and Jason. Then one day Rachel sees "Jess" kissing another man. The day after that, Jess goes missing. The story is told from three character's not-to-be-trusted perspectives: Rachel, who mourns the loss of her former life with the help of canned gin and tonics; Megan (aka Jess); and Anna, Rachel's ex-husband's wife, who happens to be Jess/Megan's neighbor. Rachel's voyeuristic yearning for the seemingly idyllic life of Jess and Jason lures her closer and closer to the investigation into Jess/Megan's disappearance, and closer to a deeper understanding of who she really is. And who she isn't. This is a book to be devoured. -Neal Thompson

The Girl on the Train: A Novel
---
Free weekly eNews
Every Tuesday evening we send an e-mail message to people who are interested in upcoming (the next week) events that have an ethnic or cultural connection. So it may be Opera in the Italian Garden or Puerto Rican Day Parade or Slovenian Kurentovanje or...

If you are interested in receiving this free weekly e-mail just sign up for the free eNews.

You can also sign up to receive more specific free eNews for any groups or groups you may choose (Irish, German, Polish, Chinese, etc.)

It's easy and free and will let you know every week about fun and interesting events that are coming up in the next week.
---
Domestic Violence
Domestic violence is a pattern of repeated physical, sexual and emotional violence and behaviors that one person in a relationship uses to exercise power and control over the other. Cleveland and Northeast Ohio have many resources for victims of domestic violence.

Main Domestic Violence Page including:
What is domestic violence?
Why do partners abuse?
Are you in an abusive relationship?
Domestic Violence Emergency Help
Domestic Violence and Children

Domestic Violence and Immigrants

Housing Protections for Victims of Domestic Violence

Civil Protection Orders for Victims of Domestic Violence


---
Special Deals and Shopping for Cleveland Women and Girls
We now have two great sources for you to find the best online pricing values. One is Cleveland specific and features products about Cleveland and by and for Clevelanders.

The other is 20 or so companies that are the best of the best in on-line shopping products, value and service. Names you will know like Amazon, Walmart, 1800Flowers, Hanes, Microsoft, Drugstore.Com and Pets Warehouse. But also some lesser known best of breed stores such as Old Time Candy, Lauren Hutton makeup, ShopIrish, DermaDoctor, Shutterfly and more.

On-line store for Cleveland Women and Girls

Take a look. You can always get back to the Store by clicking on the Shopping & Specials link on the left hand side of the page.

Happy Shopping!
---


Have you seen the Amazon Deal of the Day? Everyday, a new very special deal will be offered. Look below for the daily special.


---


Women make up more than 1/2 of the population but sometimes it seems that the Internet has ignored this fact.

Or the sheer enormity of the Internet does not make it easy to find information, resources and items of interest for women and girls in the Cleveland area.

Not anymore! ClevelandWomen.Com is geared toward providing information, resources and fun to the female population of Northeast Ohio - Cleveland Women - and those who care about them. In fact, we hope that the men in your life will visit and maybe learn what makes you tick.

Don't miss our profiles of interesting Cleveland Women - Maybe it's someone you know! (Or tell us about someone we should know)

Take advantage of discounts and specials selected just for you.

Ask questions and receive answers from our many experts from all walks of life.

Share your thoughts, memories, ideas with other Cleveland Women.

Take advantage of the information provided for your age group and situation.

Most importantly, come back often and



Have Fun!

---
---
Top of Page