Welcome to ClevelandWomen.Com
for Women of all Ages
in Cleveland, Northeast Ohio & Beyond.
---
International Fashion Show
A highlight of the 8th Annual ICC-WIN Cleveland Multicultural Holiday Celebration on Wednesday, December 6, 2017 at the Global Center for Health Innovation in Cleveland was the International Fashion Show featuring almost 100 models from about 30 countries.

Tugce Sareyyuoglu and young daughters Ceren and Defne represented Turkey. They are wearing clothing from the Turkish Hana Ceremony for the Bride before the Wedding.

(Click on the white arrow to watch the video)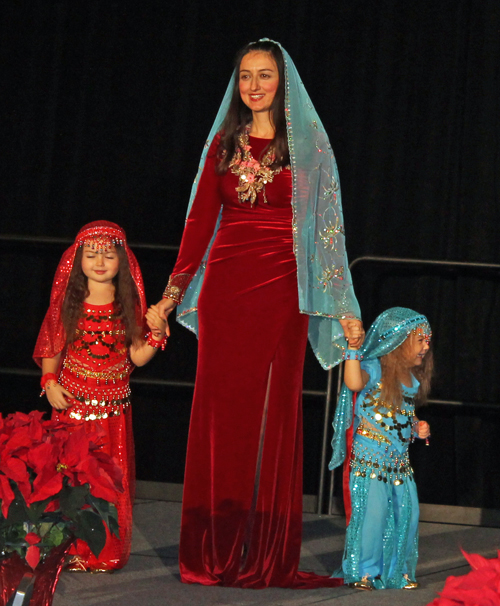 Tugce Sareyyuoglu and young daughters Ceren and Defne representing Turkey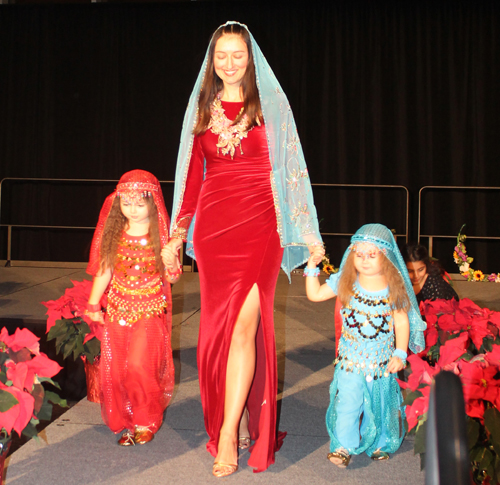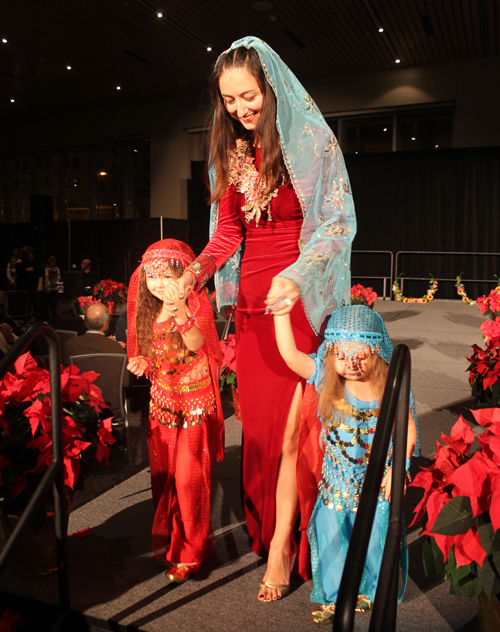 See more photos and videos of the International Fashion Show
---
Who said playing Polka Music was just for guys?
Six polka performers scored their first wins at the 30th annual polka music awards, presented by the National Cleveland-Style Polka Hall of Fame and Museum. Twenty-two awards were presented at a gala stage show on Saturday, November 25, 2017.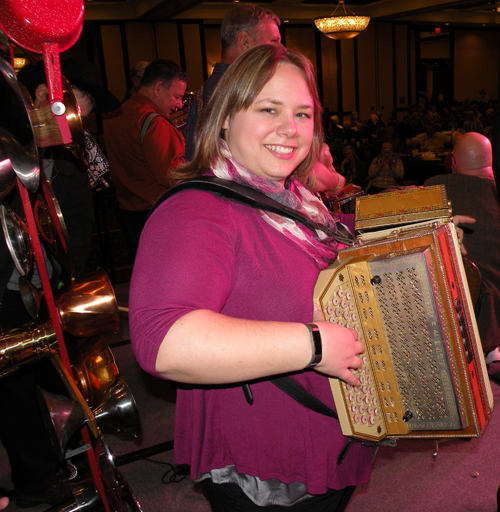 Patty Candela whose ensemble,
Patty C and the Guys, won Button Box Band of the Year



The Thanksgiving Polka Weekend brought 22 polka bands and five busloads of fans from the U.S. and Canada to Cleveland, Ohio, for the three-day music festival. Nearly 700 room-nights were booked at the Marriott. Forty-eight musicians appeared on the main stage in the traditional jam session on Friday evening.

See more from the Polka Music Awards in Cleveland


---
Wisdom of the Chalkboard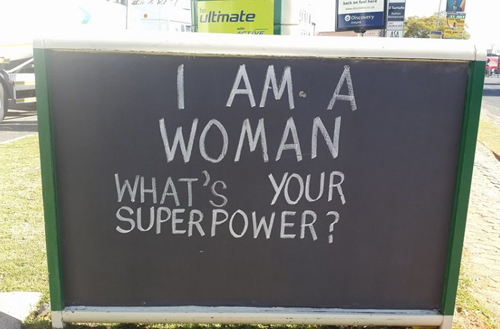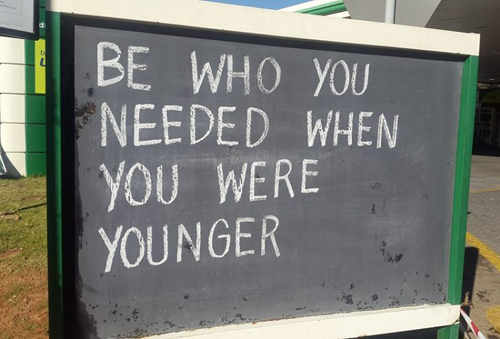 ---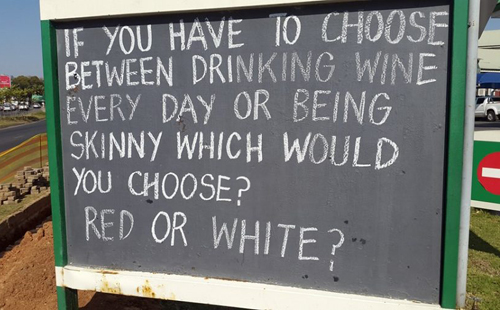 ---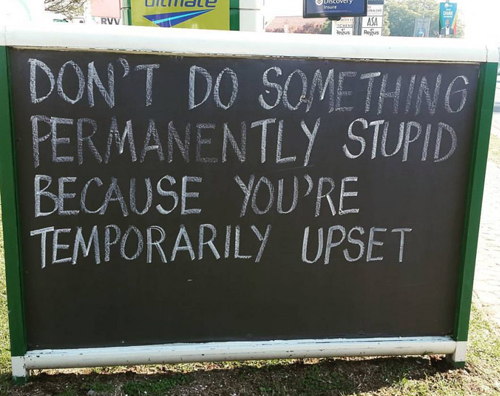 ---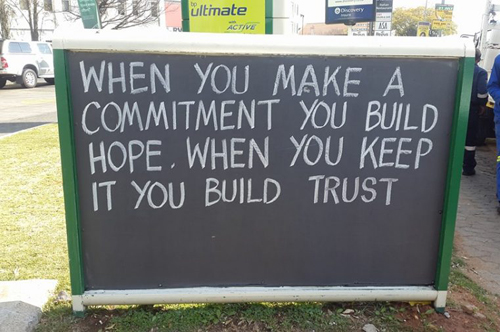 ---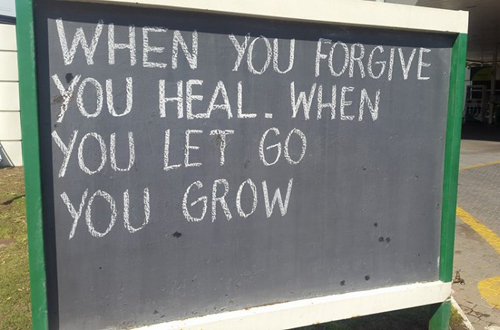 ---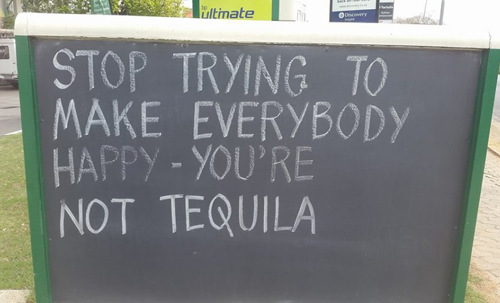 ---
Great Gram's feedback for Amy on her wedding day in 1957
Standing in front of the bathroom mirror, I surveyed my little girl's braids with the too-cute ribbons mom had affixed to each end. Shiny-faced and freshly dressed, my best shoes of patent leather Mary Janes with little white socks, I was ready for something. Mom gushed, "Oh, you look darling!" but great grandma only offered, "presentable."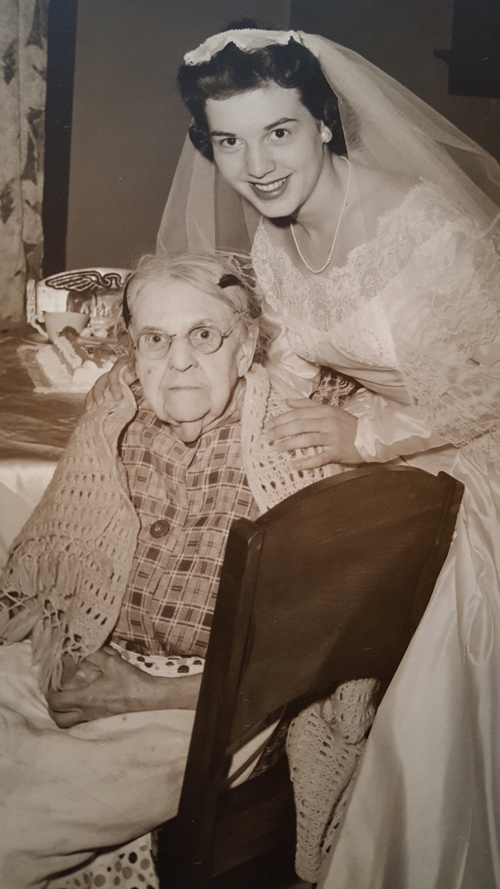 Amy Kenneley with her great grandmother on her wedding day
Read the rest of Amy' s story
---
Scandalous! Woman's wool knit bathing suit from the 1920's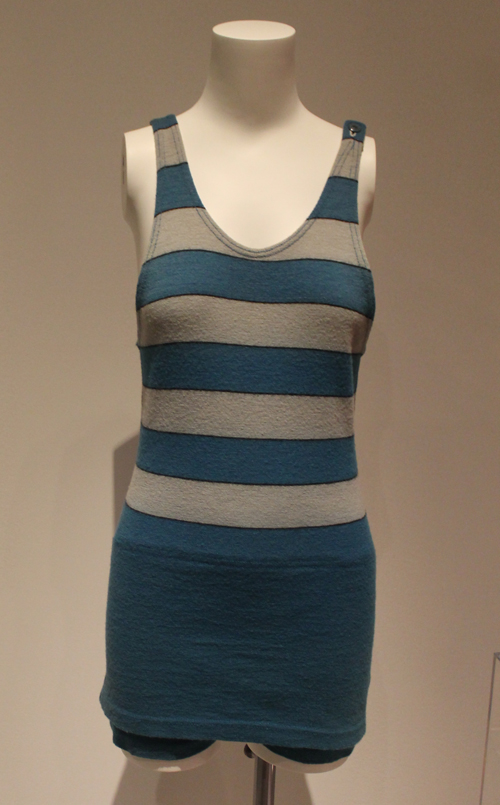 Fashion and Jewlery from the Jazz Age are on display at the new The Jazz Age: American Style in the 1920s exhibit at the Cleveland Museum of Art.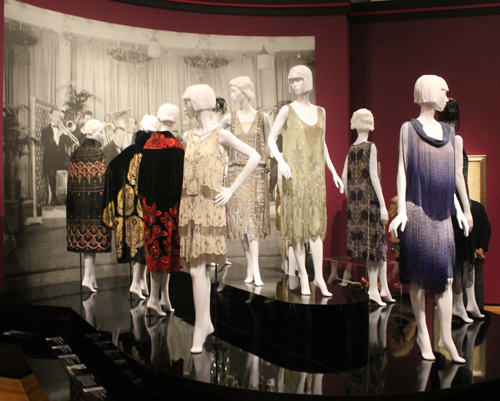 More from The Jazz Age exhibit
---
The Jazz Age: American Style in the 1920s
The Jazz Age: American Style in the 1920s is the first major museum exhibition to focus on American taste in art and design during the 1920s and early 1930s. Through a rich array of over 300 extraordinary works in jewelry, fashion, automobiles, paintings and decorative arts, featuring the events and people that punctuated the era, the exhibition explores the impact of European influences, American lifestyle, artistic movements and innovation during this exciting period.

The Jazz Age: American Style in the 1920s is co-organized by the Cleveland Museum of Art and the Cooper Hewitt, Smithsonian Design Museum, and is on view in the Kelvin and Eleanor Smith Foundation Hall from September 30, 2017 through January 14, 2018.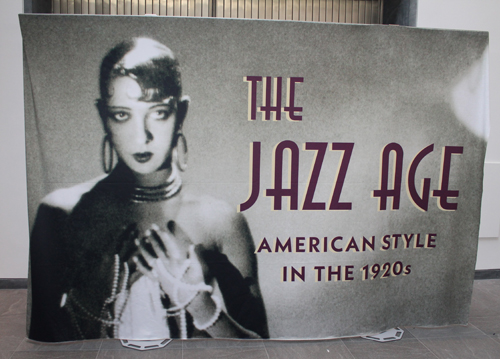 Photos, video and more information on The Jazz Age exhibit
---
Are you a Foodie?
If so, check out a preview of the new ClevelandCooks.com

ClevelandCooks is geared toward:

Chefs
Home cooks and wannabe chefs
Foodies
People who like to dine out and try new things
Food industry entrepreneurs
And more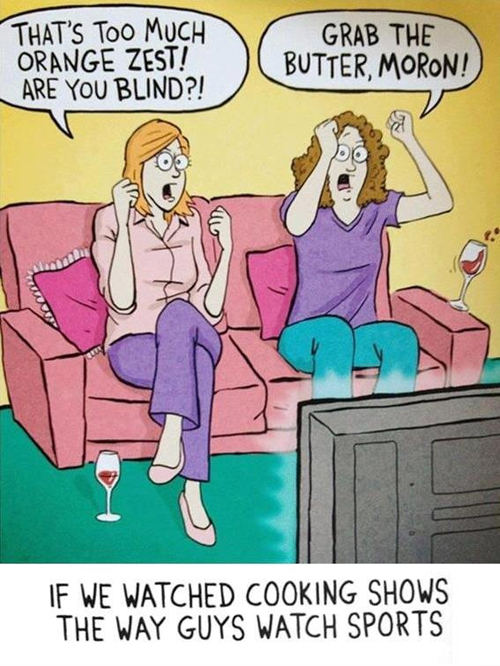 ---
ClevelandWomen.Com Book of the Week
The Girl on the Train


The #1 New York Times Bestseller, USA Today Book of the Year, now a major motion picture starring Emily Blunt. The debut psychological thriller that will forever change the way you look at other people's lives.

Intersecting, overlapping, not-quite-what-they-seem lives. Jealousies and betrayals and wounded hearts. A haunting unease that clutches and won't let go. All this and more helps propel Paula Hawkins's addictive debut into a new stratum of the psychological thriller genre. At times, I couldn't help but think: Hitchcockian. From the opening line, the reader knows what they're in for: "She's buried beneath a silver birch tree, down towards the old train tracks…" But Hawkins teases out the mystery with a veteran's finesse. The "girl on the train" is Rachel, who commutes into London and back each day, rolling past the backyard of a happy-looking couple she names Jess and Jason. Then one day Rachel sees "Jess" kissing another man. The day after that, Jess goes missing. The story is told from three character's not-to-be-trusted perspectives: Rachel, who mourns the loss of her former life with the help of canned gin and tonics; Megan (aka Jess); and Anna, Rachel's ex-husband's wife, who happens to be Jess/Megan's neighbor. Rachel's voyeuristic yearning for the seemingly idyllic life of Jess and Jason lures her closer and closer to the investigation into Jess/Megan's disappearance, and closer to a deeper understanding of who she really is. And who she isn't. This is a book to be devoured. -Neal Thompson

The Girl on the Train: A Novel
---
Free weekly eNews
Every Tuesday evening we send an e-mail message to people who are interested in upcoming (the next week) events that have an ethnic or cultural connection. So it may be Opera in the Italian Garden or Puerto Rican Day Parade or Slovenian Kurentovanje or...

If you are interested in receiving this free weekly e-mail just sign up for the free eNews.

You can also sign up to receive more specific free eNews for any groups or groups you may choose (Irish, German, Polish, Chinese, etc.)

It's easy and free and will let you know every week about fun and interesting events that are coming up in the next week.
---
Domestic Violence
Domestic violence is a pattern of repeated physical, sexual and emotional violence and behaviors that one person in a relationship uses to exercise power and control over the other. Cleveland and Northeast Ohio have many resources for victims of domestic violence.

Main Domestic Violence Page including:
What is domestic violence?
Why do partners abuse?
Are you in an abusive relationship?
Domestic Violence Emergency Help
Domestic Violence and Children

Domestic Violence and Immigrants

Housing Protections for Victims of Domestic Violence

Civil Protection Orders for Victims of Domestic Violence


---
Special Deals and Shopping for Cleveland Women and Girls
We now have two great sources for you to find the best online pricing values. One is Cleveland specific and features products about Cleveland and by and for Clevelanders.

The other is 20 or so companies that are the best of the best in on-line shopping products, value and service. Names you will know like Amazon, Walmart, 1800Flowers, Hanes, Microsoft, Drugstore.Com and Pets Warehouse. But also some lesser known best of breed stores such as Old Time Candy, Lauren Hutton makeup, ShopIrish, DermaDoctor, Shutterfly and more.

On-line store for Cleveland Women and Girls

Take a look. You can always get back to the Store by clicking on the Shopping & Specials link on the left hand side of the page.

Happy Shopping!
---


Have you seen the Amazon Deal of the Day? Everyday, a new very special deal will be offered. Look below for the daily special.


---


Women make up more than 1/2 of the population but sometimes it seems that the Internet has ignored this fact.

Or the sheer enormity of the Internet does not make it easy to find information, resources and items of interest for women and girls in the Cleveland area.

Not anymore! ClevelandWomen.Com is geared toward providing information, resources and fun to the female population of Northeast Ohio - Cleveland Women - and those who care about them. In fact, we hope that the men in your life will visit and maybe learn what makes you tick.

Don't miss our profiles of interesting Cleveland Women - Maybe it's someone you know! (Or tell us about someone we should know)

Take advantage of discounts and specials selected just for you.

Ask questions and receive answers from our many experts from all walks of life.

Share your thoughts, memories, ideas with other Cleveland Women.

Take advantage of the information provided for your age group and situation.

Most importantly, come back often and



Have Fun!

---
---
Top of Page