Welcome to ClevelandWomen.Com
for Women of all Ages
in Cleveland, Northeast Ohio & Beyond.
---
---
Sister Alicia Alvarado inducted into Cleveland International Hall of Fame
Sister Alicia Alvarado was born in Villalba, Puerto Rico and came to the mainland as a 6 year old child with her older sister Carmen and her sister Lourdes. Sister Alicia entered the Sisters of St. Dominic of Akron, now the Dominican Sisters of Peace, from San Juan Bautista Parish, Cleveland in 1979. She celebrated her Silver Jubilee of Religious Profession in 2007. Sister Alicia has ministered with the Hispanic communities most of her religious life and before entering.

She was inducted by 2012 Cleveland International Hall of Fame inductee and fellow Puerto Rican José Feliciano who called her the "Patron Saint of the Hispanic community in Cleveland.

Jose Feliciano and Sister Alicia Alvarado
See more from the induction ceremony including a video of Sister's acceptance speech.
---
The Blended Burger Project™ - Vote for a Cleveland Chef
On Memorial Day weekend select Cleveland Independents' members kicked-off the James Beard Foundation Blended Burger Project™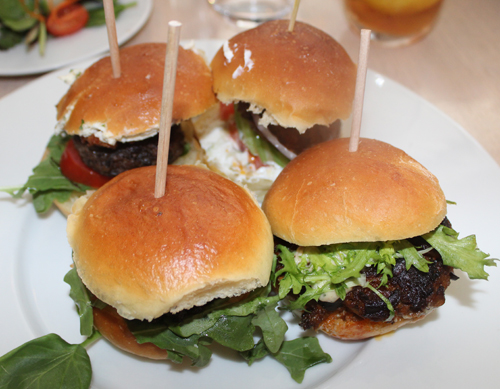 Chefs are challenged to create their best burgers blending 75 percent ground meat (beef, venison, bison, turkey, etc.) with 25 percent cultivated, chopped mushrooms. According to the Mushroom Council, these sustainable burgers are healthier, lower in calorie and cholesterol and juicier than traditional burgers.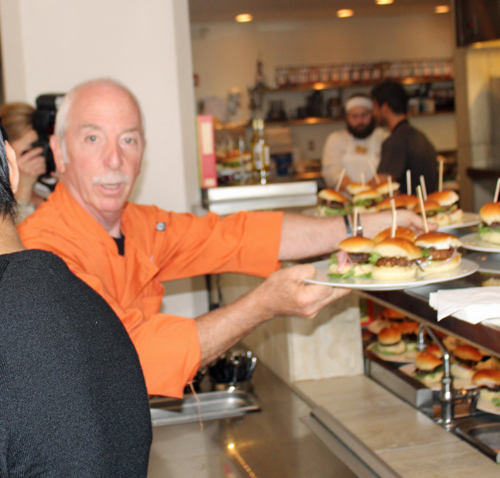 Chef Zack Bruell



Now entering its fourth year, The Blended Burger Project™ runs nationally from May 28 through July 31. Participating restaurants are encouraged to generate votes for their burgers at https://www.jamesbeard.org/blendedburgerproject/vote. (No purchase necessary.)

In the past, the promotion was as much a popularity contest as an effort to promote awareness as the top five chefs earned the opportunity to cook their burgers at the prestigious James Beard House in New York City. This year, however, things have changed.

Pursuant to the public voting, a panel of food experts selected by the James Beard Foundation will determine five winners from the top 20 entries with the most online votes. Experts will determine the top five winners based on (1) most creative use of mushrooms, (2) best flavor profile and (3) presentation. From a public perspective, voters will automatically become eligible to win an all-expenses paid trip for two to the 2018 James Beard Blended Burger event at the James Beard House. The public is encouraged to vote on a daily basis.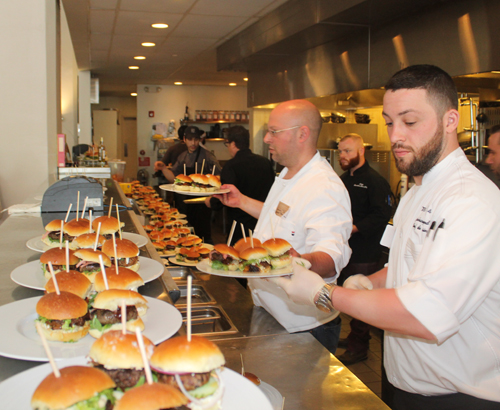 Cleveland Independents' members participating in the 2018 James Beard Blended Burger Project™ are: Alley Cat Oyster Bar, Astoria Café & Market, Chinato, Cowell & Hubbard, Creekside Restaurant, Der Braumeister, L'Albatros Brasserie, Nuevo Mod Mexican-Akron, Nuevo Mod Mexican-Cleveland, One Eleven Bistro, Parallax, Table 45, Thyme2 and Tremont Tap House.

According to trade magazine, Nation's Restaurant News, more than 50 billion burgers are served in this country each year and are continuing to rise in their popularity. More than 700 restaurants competed in The James Beard Blended Burger Project™ in its first two years.

At a preview event, Steve Solomon of the Mushroom Council explained the 2018 James Beard Blended Burger Project™





Four chefs prepared blended burgers and explained them at the preview event. Zack Bruell/Andy Dombrowski, of Zack Bruell Restaurant Group, John Kolar of Thyme2 (Thyme Squared), Corey Kobrinski of Astoria Café & Market and Travis Bletsch of Creekside Restaurant.





The Blended Burger Project™ runs nationally from May 28 through July 31. Let's have a Cleveland winner! Vote daily at https://www.jamesbeard.org/blendedburgerproject/vote. (No purchase necessary.)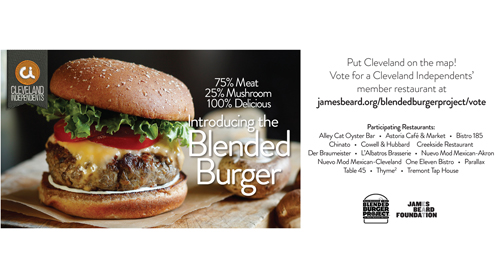 See more at ClevelandCooks.com
---
Tulips in bloom in the Turkish Cultural Garden
Last fall, volunteers gathered to plant tulip bulbs in the Turkish Garden. Now their efforts have paid off.

Though many think of the Dutch when they discuss tulips, tulips are actually native to Turkey. Tulips are the national flower of the Republic of Turkey with a history going back to its Ottoman roots. Many cultivated varieties of tulips were widely grown in Turkey long before they were brought to Holland from Turkey In the 16th Century.

The time between 1718-1730 is called the "Tulip Era of Turkey". It was under the reign of sultan Ahmed III and tulips became an important style of life within the arts, folklore and the daily life during this peaceful time.

The botanical name for tulips, Tulipa, is derived from the Turkish word "tulbend" or "turban", which the flower resembles. It's considered as the King of Bulbs.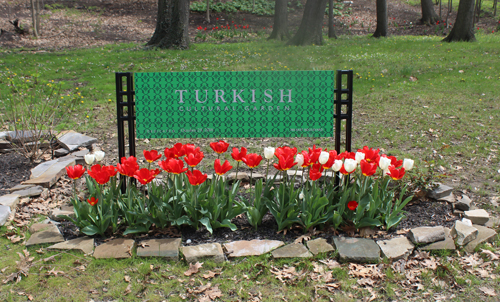 Tulips in the Turkish Cultural Garden
---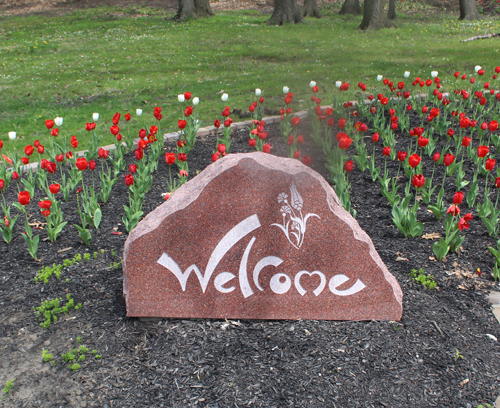 ---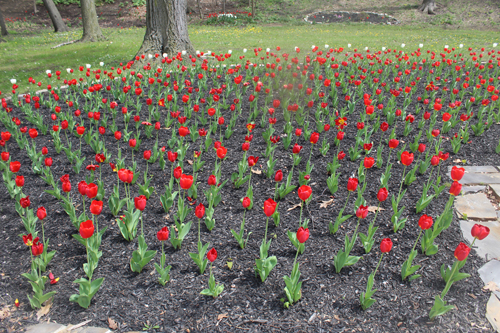 ---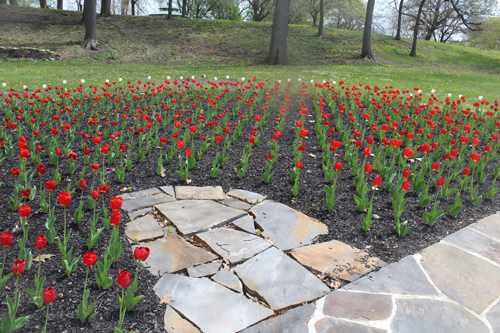 See more of the Turkish Garden Tulips
---
What a Night!
9th annual Cleveland International Hall of Fame inductions
Well over 500 people attended the induction of the 9th class of the Cleveland International Hall of Fame on Tuesday April 17, 2018.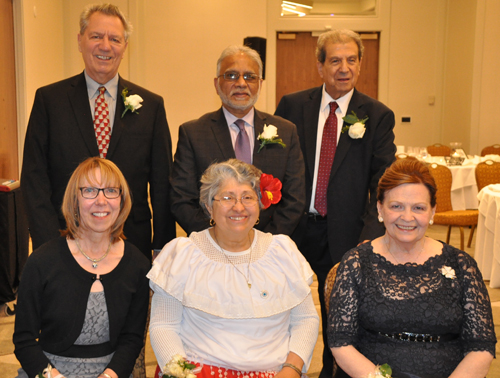 Ralph Perk Jr., Dr Atul Mehta, Abby Mina,
Karen Pianka, Sister Alicia Alvarado and Sheila Murphy Crawford



It was an inpsiring evening. Look for photos and videos up soon.

Cleveland International Hall of Fame


---
Chief Valarie McCall Keynote
The Rotary Club of Cleveland hosted their annual International Fellowship Day in Cleveland Ohio on March 15, 2018. The keynote address was given by Valarie J. McCall, the Chief of Government & International Affairs of the City of Cleveland.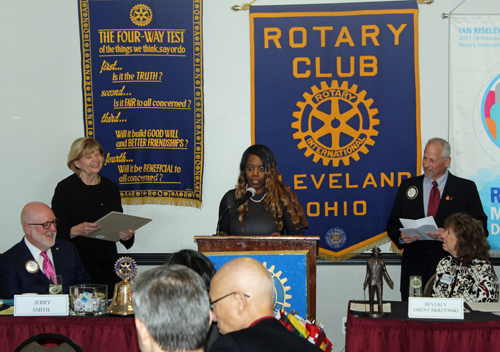 Chief Valarie McCall keynote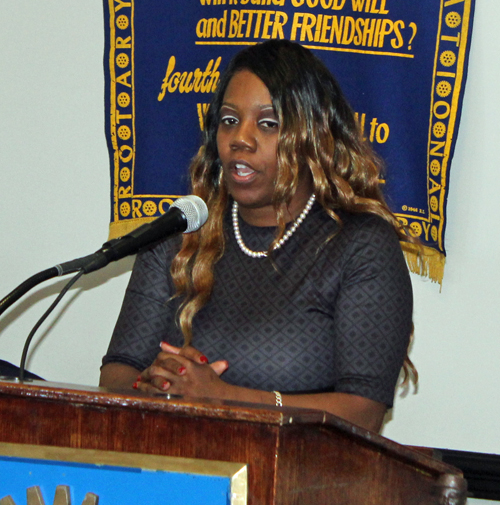 As you will see in this video, Chief McCall also took some questions after her speech.

See more from the Cleveland Rotary event


---
2018 International Fellowship Day honoring Ingrida Bublys
The Rotary Club of Cleveland hosted their annual International Fellowship Day in Cleveland Ohio on March 15, 2018. The event featured the presentation of the International Service Award to Ingrida Bublys, Honorary Consul General Republic of Lithuania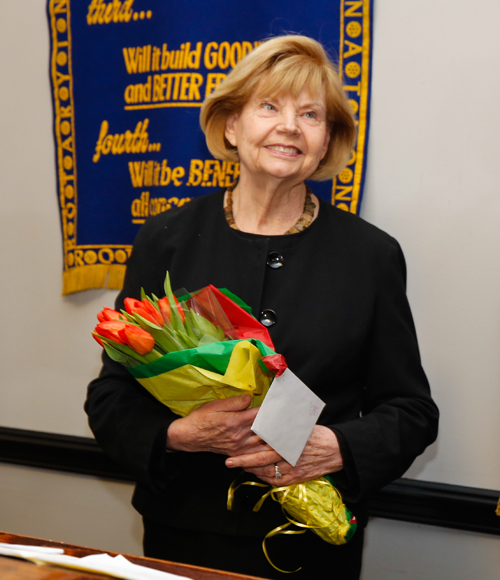 Congratulations Ingrida
See more from the Cleveland Rotary event
---
Wisdom of the Chalkboard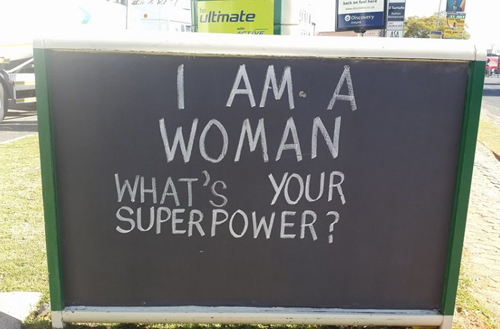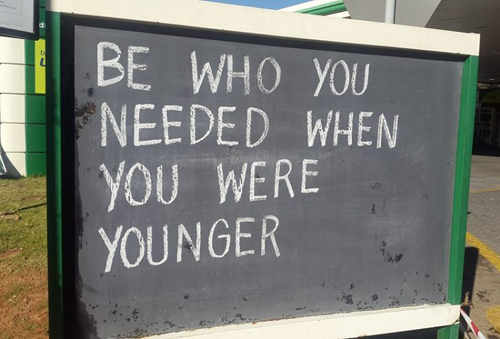 ---
Are you a Foodie?
If so, check out a preview of the new ClevelandCooks.com

ClevelandCooks is geared toward:

Chefs
Home cooks and wannabe chefs
Foodies
People who like to dine out and try new things
Food industry entrepreneurs
And more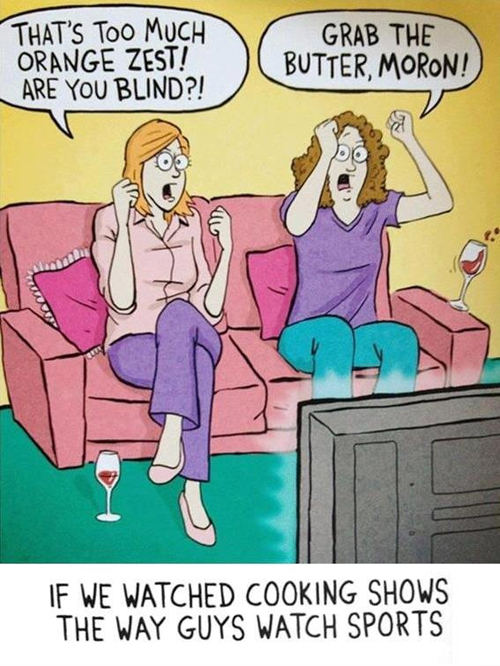 ---
ClevelandWomen.Com Book of the Week
The Girl on the Train


The #1 New York Times Bestseller, USA Today Book of the Year, now a major motion picture starring Emily Blunt. The debut psychological thriller that will forever change the way you look at other people's lives.

Intersecting, overlapping, not-quite-what-they-seem lives. Jealousies and betrayals and wounded hearts. A haunting unease that clutches and won't let go. All this and more helps propel Paula Hawkins's addictive debut into a new stratum of the psychological thriller genre. At times, I couldn't help but think: Hitchcockian. From the opening line, the reader knows what they're in for: "She's buried beneath a silver birch tree, down towards the old train tracks…" But Hawkins teases out the mystery with a veteran's finesse. The "girl on the train" is Rachel, who commutes into London and back each day, rolling past the backyard of a happy-looking couple she names Jess and Jason. Then one day Rachel sees "Jess" kissing another man. The day after that, Jess goes missing. The story is told from three character's not-to-be-trusted perspectives: Rachel, who mourns the loss of her former life with the help of canned gin and tonics; Megan (aka Jess); and Anna, Rachel's ex-husband's wife, who happens to be Jess/Megan's neighbor. Rachel's voyeuristic yearning for the seemingly idyllic life of Jess and Jason lures her closer and closer to the investigation into Jess/Megan's disappearance, and closer to a deeper understanding of who she really is. And who she isn't. This is a book to be devoured. -Neal Thompson

The Girl on the Train: A Novel
---
Free weekly eNews
Every Tuesday evening we send an e-mail message to people who are interested in upcoming (the next week) events that have an ethnic or cultural connection. So it may be Opera in the Italian Garden or Puerto Rican Day Parade or Slovenian Kurentovanje or...

If you are interested in receiving this free weekly e-mail just sign up for the free eNews.

You can also sign up to receive more specific free eNews for any groups or groups you may choose (Irish, German, Polish, Chinese, etc.)

It's easy and free and will let you know every week about fun and interesting events that are coming up in the next week.
---
Domestic Violence
Domestic violence is a pattern of repeated physical, sexual and emotional violence and behaviors that one person in a relationship uses to exercise power and control over the other. Cleveland and Northeast Ohio have many resources for victims of domestic violence.

Main Domestic Violence Page including:
What is domestic violence?
Why do partners abuse?
Are you in an abusive relationship?
Domestic Violence Emergency Help
Domestic Violence and Children

Domestic Violence and Immigrants

Housing Protections for Victims of Domestic Violence

Civil Protection Orders for Victims of Domestic Violence


---
Special Deals and Shopping for Cleveland Women and Girls
We now have two great sources for you to find the best online pricing values. One is Cleveland specific and features products about Cleveland and by and for Clevelanders.

The other is 20 or so companies that are the best of the best in on-line shopping products, value and service. Names you will know like Amazon, Walmart, 1800Flowers, Hanes, Microsoft, Drugstore.Com and Pets Warehouse. But also some lesser known best of breed stores such as Old Time Candy, Lauren Hutton makeup, ShopIrish, DermaDoctor, Shutterfly and more.

On-line store for Cleveland Women and Girls

Take a look. You can always get back to the Store by clicking on the Shopping & Specials link on the left hand side of the page.

Happy Shopping!
---


Have you seen the Amazon Deal of the Day? Everyday, a new very special deal will be offered. Look below for the daily special.


---


Women make up more than 1/2 of the population but sometimes it seems that the Internet has ignored this fact.

Or the sheer enormity of the Internet does not make it easy to find information, resources and items of interest for women and girls in the Cleveland area.

Not anymore! ClevelandWomen.Com is geared toward providing information, resources and fun to the female population of Northeast Ohio - Cleveland Women - and those who care about them. In fact, we hope that the men in your life will visit and maybe learn what makes you tick.

Don't miss our profiles of interesting Cleveland Women - Maybe it's someone you know! (Or tell us about someone we should know)

Take advantage of discounts and specials selected just for you.

Ask questions and receive answers from our many experts from all walks of life.

Share your thoughts, memories, ideas with other Cleveland Women.

Take advantage of the information provided for your age group and situation.

Most importantly, come back often and



Have Fun!

---
---
Top of Page