Fashion Merchandising Students New York Study Tour
By Shannon M. Reilly

Out of the Classroom and into the Industry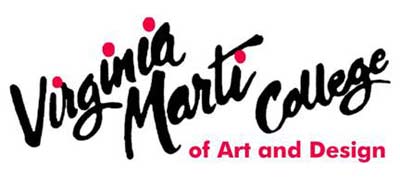 Virginia Marti College of Art and Design (VMCAD) offered students an opportunity to get out of the classroom and into the industry via the annual study tour.
This year VMCAD teamed up with Cover New York the leading fashion educational tour company to do just that. Fashion merchandising students spend four days in the heart of New York's Garment District.
Students had the opportunity to go behind the scenes of corporations, design, studios, showrooms, retailers, and other industry-specific settings. The tour included presentations and face-to-face dialogues with industry practitioners, as well as plenty of opportunities to explore New York.
DAY 1: Agenda
9:30 a.m.
VMCAD students tour the Fifth Avenue, Kenneth Cole Specialty Shop location. They had an opportunity to visit with the store manager before the store opened to the public.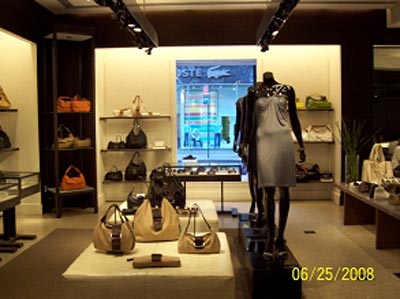 The store manager talked about the Kenneth Cole brand, how the company got started, what a typical day is like in the Fifth Avenue location and how it differs from other locations. After the presentation and open discussion session students had the opportunity to shop and received a 20% discount.
10:30 a.m.
Visit to Studio Rouge to see the busy costume design work shop of Rosie Zinegales a graduate of VMCAD. Rosie has built costumes for numerous Broadway plays. Note that "built" is a term used in the theatre industry. Typically a play designer illustrates the costumes and then those costumes are made by a costume shop.
Rosie has built costumes for theatre, opera, and has designed for films, and television. A few of Rosie's theatre credits include the Broadway plays Jersey Boys, and the Pajama Game, a few film credits include Stepford Wives, and The Talent Mr. Ripely, and Mambo Kings.
Theatre design is very different than 7th Avenue Fashion design, students learned about the art and creativity that goes into designs for the stage and the screen. Students had a chance to see actual costumes in the works and view a portfolio of Rosie's completed projects as well as up-and-coming projects.
11:45 a.m
Visit Style Sight an on-line business-to-business fashion forecasting company. A company representative demonstrated Style Sights unique internet approach to providing customers with fashion and business forecasting intelligence.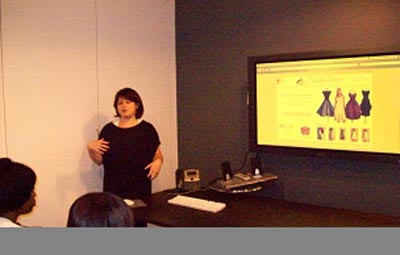 2:00 p.m.Visit fashion designer Nili Lotan's boutique and design room. Nili Lotan has worked as a designer in New York for over 20 years designing for Ralph Lauren, and Nautica to name a few. In 2003 she created her own label. Her collection is artfully designed and sophisticated.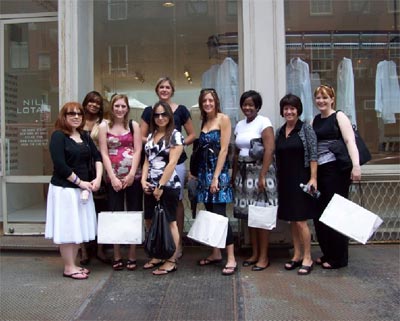 Ms. Lotan shared her story about how she got started as a designer, who she worked for, and the experiences that lead her to create her own line. Students had a chance to see Ms. Lotan's current collection as well as her upcoming collection.
Day 2: Agenda9:00 a.m.
Visit Fashion Design Concepts, Inc. a business-to-business manufacturer and designer of trims. Fashion Design Concepts creates sample garments which are used as the pro-type for manufactured apparel.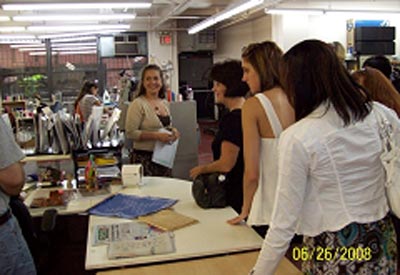 The company also provides to the following services for the fashion industry: design, embroidery, hand work, and forecasting for the trims industry.
The owner of the company is also the spokesman for the Save The Garment District a non-profit organization, committed to keeping garment jobs in the New York and the United States.
10:00 a.m.
Visit fashion designer Sylvia Hiesel's showroom. Ms. Hiesel exclusive line of designer fashions is exquisite and reflect her unique blend of luxury and global modernism.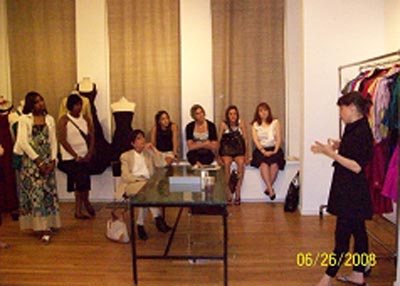 Ms. Heisel shared her experience of passage from school to well known designer. Her collection is carried at up-scale boutiques throughout United States and abroad.
11:00 a.m.
Visit Women's Wear Daily (WWD) the leading women's fashion trade publications. WWD is the ultimate authority on new designers, new looks, and fashion industry news, and business. Students meant with the Accessories Editor for an informal discussion about the fashion industry trade and consumer publishing business.
2:00 p.m.
The grand finale visit was to Armani Exchange Corporate Headquarters the central office of all the Armani American operations. The visit began with a presentation from the Human Resources associates who shared the history of the Armani brand, discussed what it is like to work for the brand, and provided pointers on career planning.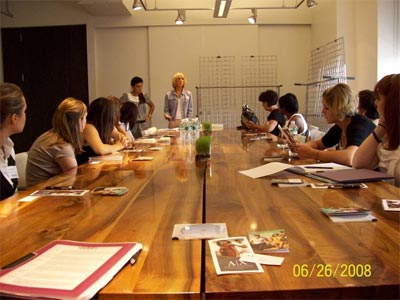 Then, two of the brand designers gave an excellent presentation about the design process at Armani, followed by a tour of the company.
The 2008 Fashion Educational Tour provided students with unprecedented access to major players in the industry. Each presenter graciously gave of their time and knowledge. A good time was had by all.
Shannon M. Reilly
Fashion Merchandising Department Head
Virginia Marti College of Art and Design
---
Top of Page
Back to Fashion