Cheese
Venturing beyond the basics
Thank you for your very informative articles. I have been a cheese eater all my life but I am a little leery of venturing into new things.
What would you recommend to someone who loves the basics - Cheddar, Swiss, Mozzarella - but would like to be a little more adventuresome? Thank you.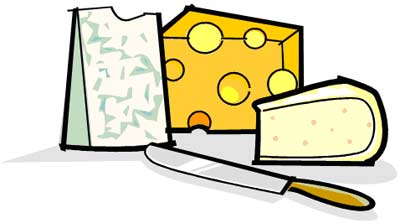 A. A great thing for you to do is try different types of Cheddar, Mozzarella, and Swiss cheeses to expand your horizons and your palette.
Cheese courses, as an example, don't always have to be different cheeses. It's fun to try several varieties of the same type of cheese.
For Swiss, you can do a basic domestic Swiss, a baby Swiss (a creamier, buttier Swiss), then move on to a stronger Swiss like Gruyere or Emmentaler.
If you like the stronger flavors, you may find you'll like other nuttier and more flavorful cheeses in general. For cheddar, you can try a mild domestic cheddar, then move on to a more aged cheddar or try different types of cheddars like ones from England.
Many English cheeses have a cheddar type flavor, such as Double Gloucester for example, that will really help you expand your knowledge and flavor base for cheese.
For Mozzarella, start off with a marinated fresh mozzarella, then move to the common mozzarella, then on to stronger Italian cheeses like provolone, aged provolone, and Fontina, an Italian cheese that tastes like a cross between Mozzarella and Parmesan.
Taking steps like this will really help you to ease your leeriness because you're trying several different cheeses in the same family that you know you already like. By doing this, you're expanding your knowledge and prepping your palette for a whole world of other flavors!
If you're still unsure, always ask your Cheesemonger to help you and let you sample different types.
---
Have a question for our Expert Cheesemongers?
Send it to:

cheese@ClevelandWomen.Com


---
Top of Page
Back to Cheese, Cheese & More Cheese!