Cheese Flavors of Fall
September Cheese of the Month:
Grana Padano Parmesan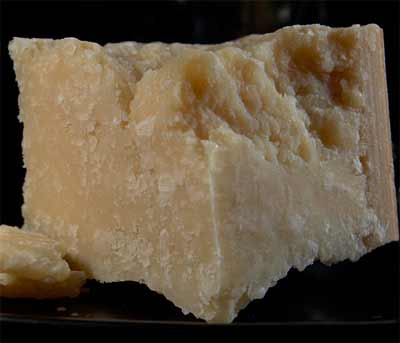 What are some great cheeses to entertain with this fall season?
As the weather gets colder, people tend to enjoy richer and more flavorful comfort foods. This month's feature cheese is Grana Padano Parmesan cheese which shares a similar taste and texture to Parmigiano Reggiano.
This cheese is ideal for grating over your favorite pasta dish, serving as a table cheese with grapes, apples, and pears, chunking for a quick snack on the go, or serving with baguette bread and balsamic vinegar.
Here is a delicious, warm, fall-inspired recipe using Grana Padano. If you can't yet find Grana Padano, any parmesan will do.
Cauliflower Au Gratin
Ingredients:
A large head of cauliflower
3 tablespoons butter, plus a little more to grease the gratin dish
2 tablespoons flour
2 cups milk
pinch of nutmeg
2 3/4 ounces (a little less than a quarter pound) Grana Padano, grated
A pinch of salt, pepper
Instructions:
Trim the cauliflower, removing the hard leaves. Divide into florets and cook in salted water for 15 minutes
Melt the butter completely over medium heat, and then add the flour.
Stir the roux over heat for 2 minutes, then pour in a small amount of milk.
Mix carefully and add more milk when the mixture is smooth and even.
Season to taste with salt, pepper and nutmeg.
Cook over a low heat, continuing until the sauce coats a wooden spoon.
Remove from the heat and add the grated Grana Padano.
Drain the cauliflower well and place in a buttered gratin dish and cover with the béchamel sauce created above
Cook in the oven for 20 minutes at 350 degrees.
Enjoy with chunks of bread or as a side to an entree

Other great cheeses for Fall include:
Fondue served with bread and fruit
Caramel Apple Brie (Serve warm with graham crackers )
Your favorite cheddar cheese with apple slices
Have a fun and flavorful fall season!
---
Have a question for our Expert Cheesemongers?
Send it to:

cheese@ClevelandWomen.Com


---
Top of Page
Back to Cheese, Cheese & More Cheese!