Grilled Cheese
by Cheesemonger Liz Lepore
With summer just around the corner, it's time to reheat the grills and enjoy family and friends in the great outdoors. But if you're growing tiresome of the usual cookout menu, add some grilled cheese!
Round wheels of brie cheese can be heated in foil packets on the grill, served plain or with your favorite brie toppings such as fruit or mushrooms and onions. Or you can simply brush olive oil on round bries and place them straight on the grill for a quick heat, and cool look.
Halloumi, a sheep and/or goat milk cheese from Cypress, is the perfect grilling cheese. It has a delicious saltiness and hearty texture that makes it a perfect meat substitute to the traditional kabob.
I've included a wonderful recipe for marinated Halloumi kabobs, but the versatility of this cheese will lend itself well to anyone who loves gourmet goods on the grill.
These are great as appetizers or serve as a main course on top of your favorite lettuce and greens with vinaigrette.
Marinated Halloumi Kabobs
8 wooden skewers (soaked in water 30 minutes before using)
8 oz. Halloumi cheese, cut into 1-inch squares
1 medium onion, cut into 1-inch chunks
1 green bell pepper, cut into 1-inch chunks
1 pint button mushrooms
1 pint cherry tomatoes
Kabob marinade (recipe below)
Thread kabob ingredients on wooden skewers, alternating between the cheese and vegetables.
Place kabobs in airtight plastic bag and pour in marinade, making sure kabobs are thoroughly covered. Refrigerate for 1 hour.
Cook kabobs on hot grill for 4 minutes, turning once. Remove from grill and serve.
Kabob Marinade
¼ cup Giant Eagle red wine vinegar
2 tbsp. dried oregano
1 tsp. black pepper
1 tbsp. garlic, minced
1 tbsp. Farmers Market fresh parsley, finely chopped
1 tbsp. Giant Eagle lemon juice
¾ cup Giant Eagle olive oil
In a small bowl, whisk all marinade ingredients together thoroughly and set aside, until ready to use.
Enjoy!
Liz, Giant Eagle Cheesemonger, Legacy Village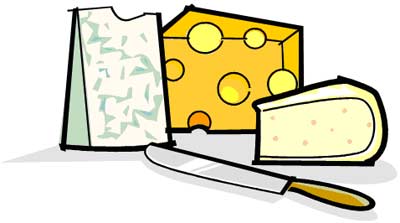 ---
Have a question for our Expert Cheesemongers?
Send it to:

expert@ClevelandWomen.Com


---
Top of Page
Back to Cheese, Cheese & More Cheese!