Irish Cheese
by Cheesemonger Liz Lepore
With February out of the way and spring just around the corner, St. Patrick's Day comes around each March at the perfect time of year; just when you think cabin fever will never go away.
Snow or shine, this holiday promotes a gathering of friends and family, bringing people out of their homes to enjoy a variety of fun-filled Irish festivities. This is also a great time of year to try new things, including new and different cheeses. Like many holidays, St. Patrick's Day has a connection to cheeses that, although available during the year, deserve special attention during the month of March.
Irish cheeses have a wonderful flavor and a more distinct golden hue due to the lush pasturage provided by its exquisite and pristine landscape. Whether you like your cheeses sharp or mild, Irish cheeses offer flavors that'll make you happy enough to kiss anyone!
Blarney: This milder, softer cheese has a flavor profile that's a cross between a sweet, caramel-like aged Gouda, with the mild tangy tartness of cheddar. Blarney is great for melting or eating on sandwiches, and also perfect for a cheese platter.
Dubliner: This drier cheese has a wonderful sweetness and distinct white crystals formed from calcium lactate. These crystals provide a unique texture to the cheese and an added bonus of calcium. It's also versatile, great as a table cheese, and can be used in cooking as in the recipe below.
Mature (Aged) Cheddar: For the sharp cheddar lover, this Irish specialty is for you. This cheese has a rich round flavor with the creaminess desired by many cheese lovers.
Some great accompaniments to Irish cheeses include all varieties of apples, apricots, grapes, pears, figs, cashews, almonds, and walnuts. Wine pairings can include just about any of your favorites such as Merlot, Chianti, Chardonnay, Pinot Noir, Pinot Grigio, Riesling, and Zinfandel.
Irish cheeses also go well with any fruit juice for those little Irish ones. Or just swig it all down with some traditional green beer!
The recipe listed below uses Dubliner cheese and the delicious pairing of figs and walnuts to make a wholesome focaccia to enjoy on St. Patrick's Day or any day.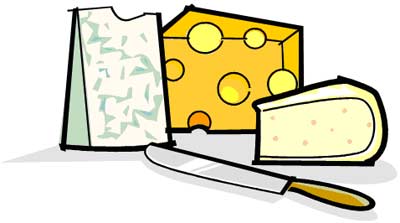 Dubliner, Fig and Walnut Focaccia

Ingredients:


1lb. Loaf of frozen bread dough, thawed according to package instructions
Olive Oil
4 plump dried figs cut into 8 wedges
4 ounces coarsely grated Dubliner cheese
½ cup coarsely chopped walnuts
Freshly ground black pepper
Instructions:
Heat oven to 450 F.
Place dough on a lightly floured surface and roll into a smooth ball.
Cover with a towel and let rest 10 minutes.
Roll out dough into a rustic oval shape a little less than 1/8 inch thick. If the dough resists this process, re-cover with a towel and let it rest about another 5 minutes longer, then roll again.
Transfer dough to a lightly oiled baking sheet and cover dough for 15 to 20 minutes until slightly risen.
Dimple dough with your fingers every inch or so and brush all over with olive oil.>/li>
Scatter evenly with figs, cheese, and walnuts.
Bake about 8 minutes until edges are golden and cheese has melted.
Season with black pepper, cut into wedges
Serve immediately as an appetizer or a delicious addition to your Irish feast.
---
Have a question for our Expert Cheesemongers?
Send it to:

expert@ClevelandWomen.Com


---
Top of Page
Back to Cheese, Cheese & More Cheese!