Firework Safety
on the 4th of July

Along with the fun and excitement of the Fourth of July it is unfortunate, but true, that we must also be concerned about holiday-related injuries. Specifically, of course, we are referring to Fireworks and the problems they can cause.
According to the CDC's National Center for Injury Prevention and Control the problem really is of major concern.
In 2001, four persons died and an estimated 9,500 were treated in emergency departments for fireworks-related injuries in the United States (Greene 2002). An estimated 12% of fireworks-related injuries treated in emergency departments required hospitalization (Greene 2002).
Here are some more facts provided by the Center which you may find interesting:
About 50% of persons injured from fireworks are children ages 14 years and younger (Greene 2002).
Males represent 75% of all injuries (Greene 2002).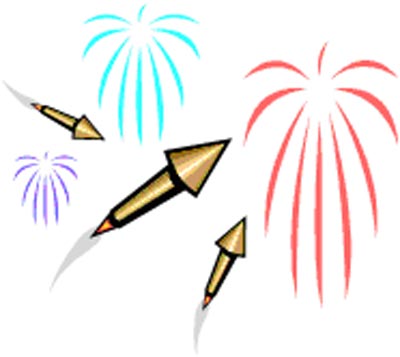 Children ages 10 to 14 years have the highest injury rate for fireworks-related injuries (Greene 2002).
Persons who are actively participating in fireworks-related activities are more frequently injured, and sustain more severe injuries, than bystanders (Smith 1996).
Fireworks-related injuries most frequently involve hands and fingers (30%), eyes (28%), and the head and face (15%). More than half of the injuries are burns (60%); contusions and lacerations were the second most frequent injuries (20%) (Greene 2002).
Fireworks also can also cause life-threatening residential fires (NFPA 2002).
Many people feel that the fireworks they have purchased for home use aren't the fireworks causing problems. Wrong. Read on:
Illegal large firecrackers represent 5% of all firecracker injuries (Greene 2002).
Fireworks-related injuries are most commonly associated with "class C" fireworks, which are sold legally in many states. Firecrackers (25%), rockets (21%), and sparklers (11%) accounted for most of the injuries seen in emergency departments during 2001 (Greene 2002).
Sparklers were associated with the most injuries for children under five.
For children ages five to 14 years and people ages 15 to 24 years, firecrackers, rockets, and other devices (including sparklers) were the source of most injuries (Greene 2002).
Most of us know that fireworks are illegal, yet come the Fourth of July they seem to be everywhere. Ohio Law, for example, allows you to buy the fireworks as long as you sign an affidavit stating that you will not use them within State boundaries.
In spite of this both Class B and Class C fireworks are often easily accessible to the general public. Quite often you will find sales distribution centers near state borders.
Class C fireworks (also known as Consumer Fireworks) include bottle rockets, sparklers and firecrackers among other things. One of the problems with bottle rockets is the tendency to fly into the users face causing eye injuries.
Sparklers burn at 1,000 degrees Fahrenheit and can easily ignite a person's clothing (or skin).
Firecrackers often injure one's hands or face if they explode prematurely or too close to the user. Class B fireworks (also know as Show Fireworks) are the much larger explosive fireworks used, as they are named, for shows and exhibitions.
Homemade fireworks (sometimes made from the powder of several firecrackers) are just too dangerous to even consider. If someone tells you they are smart enough to make them safely the ignorance of that statement should be enough to scare you away.
The of course there's the cost of fireworks and injuries - NOT including the medical costs. U.S. fire departments reported approximately 21,700 fireworks-related fires in 1998 that were estimated to have cost $15.6 million in direct property damage (NFPA 2002).
The use of fireworks is governed by a number of regulatory departments including Consumer Product Safety Commission, the Department of Transportation and the state governments. There are also city statutes and Fire Department regulations that must be observed.
Failure to adhere to any or all of these can result in major fines, and in some cases jail time. In addition, there is the more serious effect, (personal, legal and financial) of having fireworks under your "control" hurting someone.
Fireworks can be beautiful and exciting. Even more so when they are left to the experts who are qualified to give you a magnificent colorful display safely and legally.
Most cities have fireworks displays on Sunday or Monday. Enjoy them with your friends and family. Just sit back and let the experts entertain you.
Happy Holiday!
---

---


Top of Page

Back to 4th of July