Meet Jerry Cook
Our Expert Chef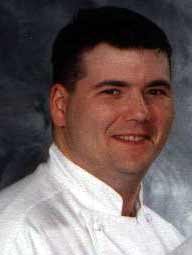 Jerry specializes in residential restaurants, retail, catering and, kitchen and culinary operations.

He has had more than thirteen years experience in all aspects of the cooking world. He was Executive Chef at Bon Appetit at Case Western Reserve University. While there he even coordinated and catered the 2004 Vice Presidential Debates.

By doing so his food was enjoyed by Vice President Dick Cheney and family, Senator John Edwards and family and personnel from CNN, NBC, ABC, MTV and FOX as well as other distinguished guests from around the world.

He has worked at Food Service Management and as Chef de Cuisine for Sodexho Food Service. He was also Batch Chef at the Cleveland Airport Marriott.

He is a 1995 graduate of the Pennsylvania Institute of Culinary Arts with an Associates Degree in Specialized Technology. He has earned special recognition in Nutrition, Food and Beverage Management and Safe Service of Food.

Currently he is the Director of Dining Services at Mount Alverna Village, which is a 153-bed skilled nursing bed, and 30 assisted living suites, sponsored by the Franciscan Sisters of Chicago.

Jerry is ready, willing and able to help with your cooking questions.

He can help us decide what to serve and how to prepare it. He can help us with everything from choosing our utensils to carving the roast.
---
Have a question for our Expert Chef?
Send it to:

chef@ClevelandWomen.Com


---
---

---
Top of Page
Back to Expert Chef Jerry Cook