2006 Mother of the Year
Nikki Rothschiller
ClevelandWomen.com is proud to announce that Nikki Rothschiller is our choice for 2006 Mother of the Year.
Nikki is the President of the Blue Star Mothers of America, Inc. Ohio Buckeyes Chapter # 26. Blue Star Mothers is a nationally recognized support group for women with children in the military.
She is 53 years old and has been married to Michael for 33 years. Michael is a 20 year veteran of the U.S. Air Force where he serves as an air traffic controller. Today Nikki and her husband own a home inspection service, Pillar to Post.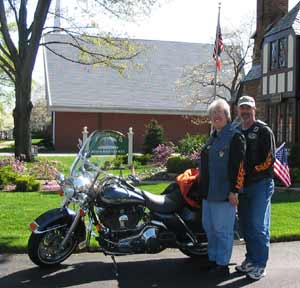 Nikki Rothschiller and husband Mike with
their Harley on their 30th anniversary


Nikki has two sons. Her oldest son, Erik spent 8 years in the Air Force as a firefighter. He is now brewmaster at Cornerstone Brewery and Tavern in Berea. He has been married to Michelle for 12 years and has Nikki's two granddaughters, Taylor (11) and Emilyn (6).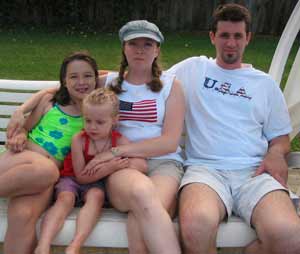 Erik Rothschiller with wife Michelle and their two daughters, Taylor and Emilyn.



Her younger son, Paul, is a sergeant in the Army where he is a re-con sniper/cavalry scout. He just returned from his second twelve month tour in Iraq. He is currently at Ft. Riley, Kansas. Paul has been married to Kathleen for just over a year. He left for Iraq just a few months after they were married. He came home for a 2 week leave in time to see his son, Nikki's grandson, Connor, being born.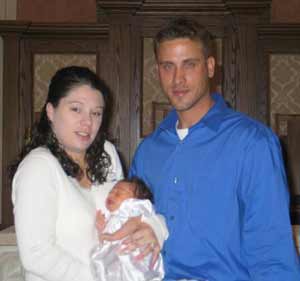 Paul, Kathleen and Connor at christening



When the children were growing up Nikki was primarily a stay at home mom. "I raised my boys with a firm hand, but it didn't do much good" she laughs. She notes it was hard for them because the military life required that they move a lot. "Just as they would start to feel at home or meet some new friends, we'd be moving to another country."

Nikki was adamant that they learn the value of money. When they started asking why they couldn't have something that their friends did she had them do the monthly bills with her, so they would see where every penny went.

She also tried to teach her children that every tour was an adventure. Each new country was a place most children never got to see, with people they would not have otherwise met. Growing up, her children have assisted in humanitarian efforts around the globe. They've worked in rice patties in the Philippines.

Nikki remembers a time when they were in Guam and house 48 people who had escaped a volcano erupting in the Philippines. Nikki herself did volunteer work and even though she had no medical training assisted in over 2500 circumcisions in the Philippines.

Her children have been involved in almost every natural disaster from volcanos to typhoons to hurricanes to tornadoes.

Nikki has always loved children and even worked at a day care as a preschool teacher for awhile. She made sure to always be active in the boy's school activities from parent teacher groups to sports.

"Both of my boys were very involved in sports and I always tried to go to all of their games and practices. I think it is so important to let children know you support them whatever they decide to do."

As the children got older, Nikki encouraged them to enter the military. "I knew we couldn't afford college and yet both boys were interested in going. The military would provide money for education. In addition to their education I knew they would learn good discipline and respect. My children were always good boys, but like so many children they got into some trouble. The military was so good for them and I'm so proud of them."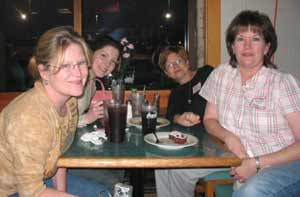 Celebration for Sgt Paul Rothschiller when he returned from the first 12 month tour in Iraq



Nikki also helped her sister raise her niece and encouraged her to join the military also - and she did. She joined Air Force.

Nikki is active in the Blue Star mothers because she knows what it is like to be a military wife and mother. "Military mothers are different. I believe there it is more stressful to raise our children when we move from one place to another so often, especially during their formative years. Most families are steady and live in same house, town, friends. Children of military don't, so they need to be raised a little different."





She says it is the same with a military wife. "You spend a lot of time alone. Not because your husband wants to leave, but because he has to. And a military wife learns that."

Nikki says her unofficial mission is to educate and help military mothers. She tells them she is available 24/7 for conversation or just a shoulder to lean on.

Paul will be getting out in July and she is glad her time as a military mom is coming to an end. "Even when they're in the States, I can't help but worry constantly. I just don't sleep. I will finally be able to relax in July."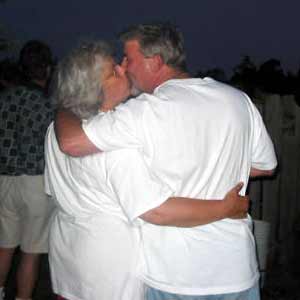 Nikki and Mike at family 4th of July party



If Nikki could give one piece of advice to a young mother it would be this: "Be a friend, but more important be an adult. Be there when they need a friend to talk to, but remember they need guidance and discipline and that is your job. Let them be their own person. If they color their hair or cut it different then you'd like, that's not a big deal. Let them experiment. Those things are harmless."

"I think Paul takes after me, Erik takes after his father. I never thought anything we did was special - we just raised our children and did what I thought was best for them in their upbringing. It makes me feel so good to see them now, all grown up, and turned out so good."

It is because of Nikki's commitment to her own children, children of the world and Blue Star Mothers that makes her our choice as the 2006 Mother of the Year. Congratulations Nikki. And Thank You.



---
Top of Page
Back to Blue Star Mothers
Back to Tributes