Professional Women
Career & Education Advice for Women



Special Sections:


Ask Cathy
Cathy Horton-Panzica on Business & Life

Women and Technology Careers
With Debbie Christofferson, CISSP, CISM

Your Bodacious Career
With Mary Foley

Women in Leadership
With Valarie D. Willis

Technology Advice & Answers
With Dan Hanson


---
Women Changing Cleveland and the World
The Engaging Women's Committee of The Union Club presented "Women Changing Cleveland and the World" How Diverse Female Professionals are Thriving and Contributing to Our Economy and Community. The panel included 4 successful women from 4 different countries and 3 continents.

See more from the Women Changing Cleveland and the World event


---
Global Leadership Mentoring Conference
Elite Women Around The World
September 19, 2013

The Global Leadership Mentoring Conference was produced by Elite Women Around The World to provide a powerful way for individuals to gain professional insight, receive support and expand their network. The program paired them with business executives from various industries in a one-to-one relationship.

Claire Scott Miller, Executive Coach of Corporate Balance Concepts and President at C. Scott Miller & Assoc., gave the Welcome Address titled "Mentoring, Roles and Expectations."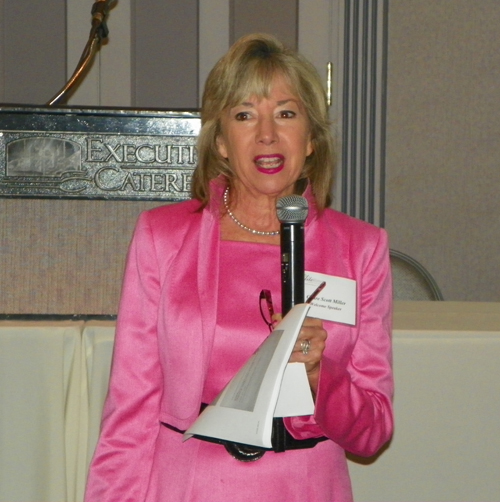 Claire Scott Miller
---
How Female CEOs Can 'Lead with Impact'
3 Ways to Set Yourself Apart from the Competition

How Women Can Get Better at Singing Our Own Praises
and Get Ahead in the Workplace

11 Lessons on How Successful Women
Bust through the Glass Ceiling to Reach their Full Potential

4 Steps to Career Building Speaking Engagements
Want to get paid $5,000 or more for speaking to a room filled with prospective customers, clients, or potential employers?

Cocktail Hour DON'Ts
Don't give your career a case of "alcohol poisoning."

The Chic Entrepreneur: Put Your Business in Higher Heels
by Elizabeth W. Gordon (book review)

Stress-Busters to Help You Sail Through Your Job Search
and Find Success - even in a Recession

Public Speaking Tips
One approach to easing the fear of public speaking

Breaking the Bamboo Ceiling
Leaving your comfort zone and career offramp/onramp

Find your Dream Job
8 Steps to Find or Create the work you love

Women in Information Technology
New scorecard is alarming

Posting your Resume Online
Ten Tips to get it noticed

Interviewing Skills 101
How to Impress in the job interview

Tips to avoid scaring an Employer This Halloween
Advice on how to have a killer interview

Are Men better Leaders than Women?
Or are Women better than Men?

Don Imus Show Yanked,
But Women Still Subjected to Subtle Discrimination

Selling to Women Doctors
These tips apply to other professions as well

More Women in Leadership
A Corporate Perspective

Things Your Boss Does NOT Want to See
When it comes to your appearance

It's a Kodak Moment
- Leadership and Innovation
by Valarie D. Willis

Why most Resolutions Fail
and How to Make Sure They Succeed

Successful Goals
Top Ten Tips to achieve

How to differentiate your business
3 Cleveland Women experts give some advice

"Herstory" matters too
A Cleveland teacher's report on Women Studies

Teen girl loves animals
How to become a vet

The State of Women Leaders
in the workforce today

Don't gain weight at work
Tips to keep the extra pounds off

Find the Perfect Job
5 Steps from our Expert Career Advisor

Women in Leadership
Leading ourselves by leading others
By Valarie Willis

5 Tips to Freshen Up Career Skills
Take action on job seeking and career innovation

Working Women and Stress
5 Tips for De-stressing your career

Continuing Education Case Study
Becoming an Ethical Massage Practitioner


---

---
Top of Page
Back to Resources & Opportunities