"Herstory" Matters Too!
by Katie Anderson,
8th Grade American History Teacher
When I walked into my new middle school on the first day of the year, I saw people of all shapes, sizes, and colors. After having come from a racially homogenous setting in my previous teaching assignment, I was thrilled to be in a place with great diversity and a staff clearly committed to equality for all students.
The school consisted of 95% minority students, over half of whom were from families of poverty, and a staff of 42 % African Americans. Sixty-nine percent of the teachers were women, and our principal was an effective and talented African American woman.
In February of my first year there, I was overwhelmed at the commitment of our entire staff (including security guards, secretaries, and custodians) to the celebration of "African American History Month." We brought in guest speakers, had a student poetry slam, ate soul food, sang traditional African music--the list goes on and on. It was so refreshing to be in a place that not only tolerated diversity but actually celebrated it!
As an American history teacher who focuses on Native American, African American, and women's perspectives in history, I couldn't wait for March's "Women's History Month." I was ready for assemblies, announcements, contests, and celebrations galore.
The first of April arrived and not one word had been spoken about women's history--and this was no April Fool's joke. Not only did this incredible staff overlook Women's History Month, but when I questioned this omission, I felt a general resistance to the whole idea.
Previously that year, I had noticed that this staff, who would never tolerate a racial joke or comment from the students, laughed at sexist remarks and branded anyone who would stand up to this banter as a "femi-Nazi." How could this seeming paradox exist from a well-educated, well-meaning group of adults?
I brushed this concern off as silliness at first, but I began to think about the situation in March. I was left confused and discouraged.
I took it upon myself to survey the students and staff regarding their notions of race and gender both in their own lives and in their experience of studying history. Because our Ohio schools now revolve around state-mandated standards, I worked the survey and the ensuing discussions into my curriculum. What I found in the data confirmed my feelings. Allow me to share some of the results.
The survey I created was presented in a straightforward, personal questionnaire with no mention of race or gender. When teachers were asked, "Who were the top three most influential people in American history?" 94% of the responses were male and no women made the "Top 10 List."
The top five replies in descending popularity were Martin Luther King, Jr., Abraham Lincoln, Thomas Jefferson, Franklin D. Roosevelt, and there was a tie for fifth place between John F. Kennedy and George Washington.
Twenty-four percent of all figures reported were African Americans. When the students were asked the same question, 29% of the responses were women, and an overwhelming 84% of were African Americans.
During my five minutes of allotted time during a staff meeting, I simply shared the data. (What I was thinking, though, was that the numbers show that we are doing a fine job of restoring the history and significance of African Americans in our curriculum, but were not doing very well with the restoration of women's history.)
When I shared the following chart with my colleagues, a gasp was heard from many of the teachers in the Media Center that afternoon in May.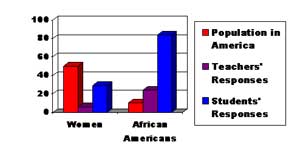 * "Population in America" indicates the percentage of the population in America, historically, of the demographic groups.

---



So, what does all this mean? I have no idea! But-it did open the door for discussion in my school.

Furthermore, I am currently chairing a committee of students and teachers to create and execute activities for the celebration of "Women's History Month 2006!" We were even awarded some funding from our administration for our project.

Obviously, the examination of racial and gender issues in American history takes much more than a month of celebration. Simply adding women to history does not mean you are teaching women's history.

To truly teach women's history requires a personal and professional paradigm shift and an intense commitment to daily curricular reflection, especially in the teaching of Social Studies.

However, if one's simple questioning can illumine any teachers or students, it is well worth the asking. If we teach tolerance, we must teach tolerance for all.
---
Top of Page
Back to Careers and Education